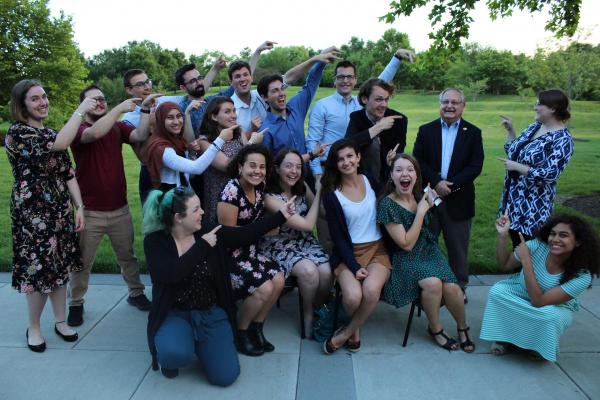 Zone meetings bring together students from SPS chapters within geographical zones. They are a fun and effective way for undergraduates to meet other students, present their research, and interact with practicing scientists. Zone meetings in 2020 will continue to serve these purposes, but how we hold them will be a little different from usual.
SPS National recommends that all zone meeting be held virtually this fall.
Opportunities may become available for in person meetings this spring, but safety is our first concern.
The Associate Zone Councilor and Zone Councilor will chair the virtual zone meetings
An SPS Chapter will continue to host part or all of the zone meeting

It is recommended that a chapter of which the AZC or ZC is not a member host each part of the meeting.
The dates for all zone meetings are set and available here.
Ask SPS National for a zoom meeting with breakout rooms

sps

[at]

aip.org
Resources provided by SPS National:
Apply for funding. Examples include: trivia prizes, competition awards, materials to be mailed to chapters
Request a speaker through the Alumni Engagement Program.
Ask for someone from SPS national to join the meeting or record a greeting:

sps

[at]

aip.org
Resources to try out:
gather.town - you can make a virtual space to meet and chat with people - good for ice breakers
Miro.com - a place to make a virtual white board and sticky note space for many people - good for group work
SPS Virtual Lounge on Discord -  Plan out the zone meeting and connect to people
When is your zone meeting?
Dates will be posted here as they are set. Reach out to your AZC/ZC for more details.
Zone 1: 10/24/2020 (pre-meeting movie night 10/23)
Zone 2: 3/20/2021
Zone 3: 10/3/2020
Zone 4: 10/24/2020
Zone 5: 10/24/2020
Zone 7: 4/9/2021 - 4/10/2021
Zone 8: 11/07/2020
Zone 9: 11/7/2020 in partnership with the Wisconsin Section meeting of AAPT
Zone 10: 11/11/2020 and 11/12/2020 at 6pm Central (7pm Eastern)
Zone 11: TBD, likely Spring 2021
Zone 13: 11/12/2020 and 11/13/2020
Zone 14,15,16: Joint zone meeting. 10/31/2020
Zone 17: 11/13/2020
Zone 18: Spring 2021
Template schedule:
6:00 – 6:10 PM  Welcome and opening remarks by AZC and ZC
                         -Share information about yourselves and how you can help
6:10 – 6:30 PM  Icebreaker games in small breakout rooms
 We recommend that each room contain at most 6 people and be randomly assigned
6:30 – 7:00 PM  Plenary speaker from the Alumni Engagement Program
20-minute talk
10 minutes of questions
Remind the speaker to share information about their personal career path
7:00 – 7:15 PM Small group puzzle
Zoom room escape room, fermi problem, or some other task that is fun
7:15 – 8:00 PM Student Presentations – Pop talks
Recommended: Each presenter has no more than 4 slides and 3 minutes to present
Each presenter has 2 minutes of questions
8:00 – 8:10 PM  Break
8:10 – 8:30 PM  Group sharing of what chapters are doing to maintain community within their chapters
8:30 – 8:45 PM Virtual Laboratory Tour
Share virtual tour of a national lab or observatory. Resources available here.
8:45 – 10:00 PM  Game night and/or and/or Demo competition
     Suggestions: Trivia, Pictionary, Jackbox games, or Physics Jeopardy